We're a group of neighbors in Bloomington, Indiana who get together and work to make our neighborhood better. If you have a vision that you want to share for the Near West Side, come join with other neighbors to make it come true! To get involved or ask a question, go to this page, enter your comment, and we'll put you in touch with who you need. Or, send an email to nearwestsidebton@gmail.com.
Where and when do we meet?
2017 Meeting Dates: 2/21, 3/21, 4/18 (Election of Officers), 5/16, 6/20, 7/18, 8/15, 9/19, 10/17, 11/21, 12/19 (Holiday Party)
Our meetings are held in the Banneker Center kitchen meeting room (just inside the front door at 930 W 7th St.) from 7-8pm.  Quarterly meetings for the general membership are held on the third Tuesday of the month in January, April,  July, and October. The Board meets monthly, also on the third Tuesday, with the exception of December, when a party open to the neighborhood is held at a location to be announced.  We plan to have a community picnic in the warmer months, possibly in May.
Subscribe to our email list!
We use an email subscription list to send regular updates about events and meetings in the neighborhood. To join the list, send an email to listserv@indiana.edu with no subject and the text "SUBSCRIBE NEARWESTSIDE-L Anonymous" in the body to subscribe anonymously. If you would like to subscribe with your name, replace "Anonymous" with your first and last name, i.e. "Joe Smith." If that doesn't work, just go to this page, request to be added, and we'll add you to the list. Or, send an email to nearwestsidebton@gmail.com.
What area of Bloomington does the Near West Side cover?
The Near West Side neighborhood is bounded by Adams St and Rogers St on the west and east sides, and the railroad tracks and Kirkwood on the north and south sides. Some neighborhood landmarks include Butler Park, the Banneker Center, and Fairview Elementary School. The B-Line Trail now passes through the north end of the neighborhood.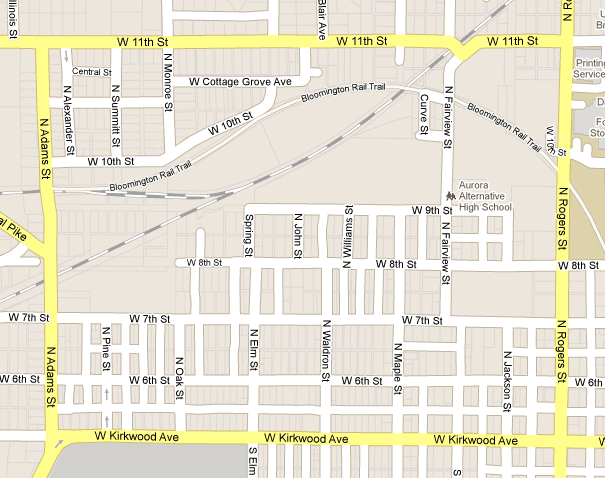 Officers and board members were elected on June 21, 2016 at a neighborhood meeting.
President – Carol Gulyas
Vice President – Sandi Clothier
Treasurer – Sophia Hauserman
Secretary – Olivia Dorfman
Board members: Cheryl Sweeney, Vernon Sweeney, Bill Baus
The latest version of our constitution: NWSNA_const